Her Restart. Her Rules. Her Rising.
Kaajal A
in
Restarter Stories
|
26 Oct 2018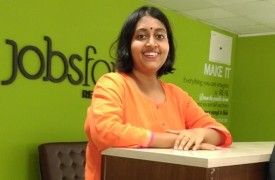 She takes one vacation every year, to travel ALONE to a remote destination; a place that she doesn't decide on until a day before she sets out on it.
She once took up a course in the field of photography only because she stumbled upon her love for it – even though it was in the middle of a lucrative job, and it came nowhere close to what she was doing then.
Sitting snug and successful with an established designation at a fast-growing firm, she chose to quit and pick tougher ground because she discovers how comfortable she became.
Sowmya Parthasarthy – the AVP of Strategic Initiatives at JobsForHer – is not a woman who settles for comfort zones.
And her career path is a testimony and more to that. In a short span of three years, this woman has gone from being the Manager - Marketing to Manager - Alliances to Senior Manager - Alliances to AVP - Strategic Initiatives.
From Marketing, she has under her belt today - Alliances & Events, Mentorship, Communities, and Public Relations.
Need I say more?
While Sowmya and I have shared common space at the JobsForHer office over the past 3 years, worked together on the initial stages of the JFH Ambassador Program, laughed at each other's trivia, eaten from each other's dabbas, ordered 'cutting' tea on several weekday afternoons, and shared the joys & pains of being mommies… I didn't know, for a long time, how remarkable her journey had been.
And it is my privilege to be sharing it with YOU…
Originally from Chennai, Sowmya first started working while she was still in college. A B.Sc. student in Electronic Media & Communication, she took up multiple internships during her second and final year; one of them being with JS Films & Real Image Media.
After her graduation, Sowmya went back to work with them as an Asst. Director for their TV Commercial Division. In the year she spent with them, she had the kind of exposure that she admits was not possible any place else. Being a production job, it was hardcore; what with putting in almost 18 to 19 hours a day! She was handling production, edits, location scouting, and screen testing of models, among other requirements. Basically the entire gamut; but it was ALL completely worth her time.
On the personal front, this was also the time when Sowmya and her husband, whom she met through common friends, decided to tie the knot. And, considering the kind of people they BOTH are, it made a lot of 'career sense' for them to move to Mumbai, which they did.
For the 6 months that followed, although Sowmya was working with an event management company and contributed towards freelance submissions, she wasn't really where she'd want to be. The reason being: a language barrier, where she couldn't speak basic Hindi (even to save her life!). Considering the nature of the field she was in, which called for day-to-day interaction with the locals, it was only inevitable that she picked up the language at the earliest.
And once that happened, Sowmya found her place with Mudra Communications as a Films Consultant. Working extensively on their TV Commercials & Radio Spots, she dealt with the bigwigs of the industry like Reliance Communications and MTDC (Maharashtra Tourism) amongst a host of other clients.
THIS is when Sowmya crossed paths with her love for photography, which she wanted to pursue with no strings attached! Her line of thought was, "Whether I go after it to become a photographer or simply as a passion, is MY
PREROGATIVE. But I want to do this to keep me inspired.''
And that's how and when she quit Mudra, after having been with them for a year and a half, and moved to Ooty all by herself, to join the Light & Life Academy for a year.
All this, in the middle of a productive career, and her marriage, which was all of 2 years old!
As I listened, agape, while she shared it all, she quoted Sheryl Sandberg who once said, "The best career decision that I probably made was to marry my husband!'' vouching for how it was so befitting to her life.
And Sowmya's husband has forever been 100% supportive of everything she's embarked on, to date!
We salute the spirit of such legendary husbands!
On completion of her photography course, Sowmya and the team held exhibitions across the cities of Bangalore, Mumbai & Chennai. Since architectural and people's photography was what got her adrenaline soaring, that is what she ventured into.
What she also chanced upon towards the end of her course was the opportunity to work with CRY, an NGO that directly contributes to a cause that she believes in. Her time while doing children's photography at CRY is something she holds close to her heart.
Soon after, Sowmya undertook a couple of diverse assignments such as shooting for architects in Mumbai, hotel projects in Goa and teaser promos for serials with a leading television channel.
In fact, Sowmya was 3 months pregnant DURING her television photo shoot!
But due to certain complications with the pregnancy, she had to cease all work and take that 'break'. While she thoroughly enjoyed her time resting, in her words she was literally 'vegetating'!
When her son was almost 6-months-old, Sowmya found a creative boutique agency called 'Thought Bubbles' at a 5-minute walking distance from her home, looking for a Films Consultant! A no-brainer, as she puts it!
She took it up as it fitted in perfectly with her timelines as a new mommy.
Six months on the job and Sowmya knew that a role of this nature had to be handled on a full-time basis. So, yet again, she stepped away, to re-evaluate how she'd want to redesign her career here on, keeping in mind her son's schedules with the support of a nuclear family.
This time coincided with her husband's job transfer, which then brought the family to Bangalore. And here's what she had to say about the entire process of 'change':
"I've never resisted change because I genuinely believe that it is always for the better. Simply because the moment you DON'T resist what's coming, within your ways of acceptance, it turns out to be amazing!
It's almost like the universe is telling you at so many levels that 'This is because I want you to do and be better!'. Otherwise, it's just agony you put yourself through of 'assuming' what you think you haven't gotten!"
When they moved to Bangalore in March 2013, Sowmya had to undergo a gallbladder removal surgery immediately. While on her way to recovery, she met one of her closest comrades from college. And the old friends had just about everything under the sun to catch up on!
Since Sowmya had just undergone surgery, one of their key topics for discussion was the importance of food. And since they were both extremely passionate about it, especially the homemade category, they realized how one's food IS their medicine, and also WHO THEY ARE.
And THAT is how their joint venture 'Foodtribe' was conceived. Since it was also the era of hyper-local markets where home bakers & chefs were churning out the most delicious foodstuffs, there couldn't have been a better time for their launch.
Foodtribe set out to be an online marketplace for preservative-free food. It would showcase and market any home chef's delicacies, making it easily available to people in search of products like these.
What was surprising though, was how without any prior marketing or experience, Foodtribe became a runaway success! So much so that they had media heads like NDTV Profit to Your Story to Deccan Chronicle to Times of India featuring them without any paid publicity!
And above all, Sowmya could 'be on the job' AND give her son all the time he needed.
Because of the exposure, her years with Food Tribe were perhaps the best two of her life! Although they had a small but committed operational team, they soon realized that scaling up the business was the ONLY next step, and that wasn't the path they wished to tread upon at the time.
With a heavy heart, they bid farewell to their dream line, hopeful of revisiting it someday…
Finding it tough to be a stay-at-home mom after spanning such heights, Sowmya started applying for jobs through JobsForHer, whose presence she found through Facebook.
And when our founder, Neha Bagaria, came across Sowmya's profile, she asked the HR department to 'not forward' this resume any further and had Sowmya come in immediately!
And since then, up until now, Sowmya has gone from being our one-woman-army manning all marketing fronts to leading a team of 7 people under 4 different verticals! Which is why she is one of the most sought-after persons in the office.
Because someone or the other is always asking "Where's Sowmya?"!
If Sowmya's power-packed comeback has got your adrenaline rising too, then let US help you restart! Find a role suitable to your way of working by signing up HERE.
Sowmya Parthasarthy is a B.Sc. graduate in Electronic Media & Communication. She has completed a post-graduate course in Photography. She has previously worked with JS Films & Real Image Media and Mudra Communications in the field of production. Subsequently, she also ran a joint venture by the name of 'Foodtribe' for 2 years. Sowmya is married and a hands-on mommy to an energetic 8-year-old.
About the Writer:
Kaajal Ahuja is a commerce graduate, who worked in the field of Customer Support first at HDFC Bank, and then at Dell International. During her 11-year career break, she spent four years volunteering as a Teacher at a government-run educational institution and also ran her own enterprise – 'Hey Gorgeous' – alongside, for 8 years. It was during her break that she discovered her love for writing, and is now back, working part-time as a Senior Content Writer at JobsForHer. She is married and is an upbeat mommy to a 13-year-old.