Flying High in Her Second Career - Tina Gidwani - Member Engagement Manager, Embassy Group
Kaajal Ahuja
in
Restarter Stories
|
14 Jul 2017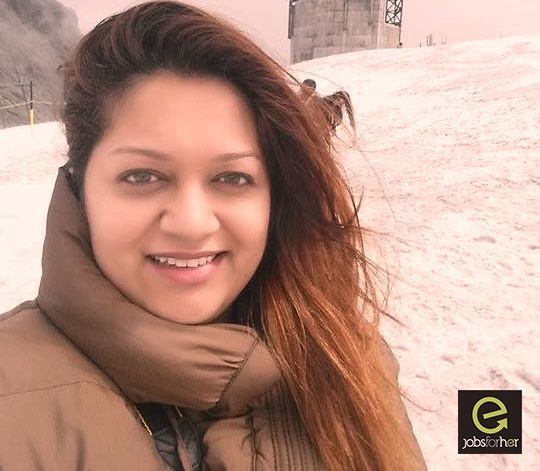 She handled Customer Support at ExploreLifeTraveling, when we housed one of our offline events with them, in January 2017. That was the first time she crossed paths with JobsForHer and our framework.
Impressed by the concept, she soon applied to an opening for an Administrative Executive at a real estate property development company on our website.
Promptly, she received a call from them – the Embassy Group.
At the interview, they realized her potential, and how over qualified she was for the job.
In an effort to retain her talent and leverage her experience, a specific role was created for Tina Gidwani, who is now the Member Engagement Manager at Club Boulevard - the Lounges domain of the Embassy Group. She handles multiple portfolios of clients at their soon to be launched exclusive club near the airport.
That is the pricelessness of EXPERIENCE.
| Have you heard of JobsForHer's Biggest Conference and Career Fair? We're OPEN for registrations! Sign Up HERE!
Tina brings with her 15 years of abundant work experience in Customer Relationship Management (CRM), with reputed companies such as Maxtouch International, Jet Airways, Emirates Airlines, Lifeplus Insurance, Enrich Interiors, and ExploreLifeTraveling. She has worked with these brands across Mumbai, Dubai, and Bangalore.
Our restarter for the week, Tina, lets us in on her journey thus far…

Her Roots…
Ours was a working, middle-class family that had to make ends meet. My dad, a one-time air force personnel, served 30 years with BPCL (Bharat Petroleum Corporation Ltd), and my mom worked for the government-run MMRDA (Mumbai Metropolitan Region Development Authority). Having lived in a beautiful colony in Chembur, where my sister and I were raised in a protective environment until each of us left home to pursue our dreams, I've always been a Mumbai girl at heart.
My sister started working at 18, and my career took flight the minute I graduated.
I spent my initial years with Maxtouch International and Jet Airways Cabin Crew, until I relocated to Dubai in 2002, to join the prestigious Emirates Airlines.
| Let JobsForHer be your second career guide. Sign up with us HERE.

Her personal journey intermingled with her professional one…
I met my husband on my first day of college in Mumbai. I still remember what he wore that day.
We were then part of the same group of friends and participated in fashion shows and dance events. A year later he moved to Bangalore to pursue his AutoCAD. His father ran his own line of Interior Designing. Being the only child, it was expected the son would follow suit.
I, on the other hand, graduated from the same college and then pursued the GNIIT.
Thereafter, I attended the Jet Airways walk-in interview and breezed through its 5 rounds. I was, in fact, one of the rare few to be selected from the humungous crowd that applied, on Day 1!
I enjoyed all my flying time with Jet as we were a fun-loving bunch and were often the same crew on every flight. Our layovers in Calcutta were almost a party hangout!
One and a half years later I went to Dubai with my mom for an opportunity with Emirates. I had an intensive 2-day interview, was selected and then asked to join in Sep 2001. But the tragedy of Sep 11th happened and suddenly the aviation industry crashed.
Finally, I joined them in Jan 2002, and flew with them for the next 9 years!
| Sign up for the 30 Second Live Coaching Session with Neeraja Ganesh
The amazing destinations, their amiable crew, the hi-tech air crafts and the joy of service, is an experience I can never forget. Every other day, I woke up in an exotic destination - enjoyed sushi in Japan, bagels in New York, pizza in Venice, and walking the streets of Paris.
My husband, who was my boyfriend at the time, joined me in Dubai in 2002, got himself a job at an Arab interior design firm and gradually struggled his way through various mediums to big companies.
By 2013, he started his very own interior design firm.
In time, I gave birth to a beautiful baby girl. But I realized how trying and testing the whole juggle was, what with my little one either seeing me sleeping while she was awake, or being gone for days on end. So I stepped down from my lucrative and glamourous career to let motherhood take over.
But I didn't quit working altogether.
I chanced upon a freelancing opportunity with Lifeplus Insurance and had the comfort of working as per my convenience. I was with them for two and a half years, at the end of which I learned of my second pregnancy.
A few months after my baby boy was born, I took up the role of a Project Coordinator with Enrich Interiors for 3 years.
| Meet the Women of Our Fifth Ambassador Showcase
A new chapter…
We moved back to India in July 2016. The kids took a while to settle into their new environment, and it took me close to six months to find that 'ideal' job to suit our new life and all its nuances. Although the Explorelife office was a 2-hour drive from home, I was with them for 5 months because I needed the exposure to the Indian market given my more diverse, international, travel-related work experience till then.

Trials along the way…
Restarting my career has certainly been a challenge for the kids and on the home front. They had to get used to a different style of schooling here and being cared for after school hours by a live-in maid, versus seeing me around most of the time, back in Dubai.
But as the weeks and months have gone by they have settled into their routine and both my in-laws too, who live with us, have accustomed themselves to all our routines. Whether it's the grocery shopping for home or overlooking their school work, I try to help as much as I can, and wherever I can.
| Ally Matthan: weaver of India's Saree Stories and Dreams

A few words of inspiration…
Whenever YOU feel comfortable to return, I would definitely recommend going back to work because THIS IS YOUR TIME - to get out of the home, meet new people, network, gain insights and also come back home physically tired yet mentally driven. Because of which, you'll look forward to spending that quality time with your kids. You and they will have so much to exchange, even in those brief moments at the end of the day.
In fact, my daughter could talk to me for hours! I have to literally force her to sleep.
So, don't let any phase of life stop you from going back to work. Our professional life is an important part of who we are, and we must give it the place it deserves.
Have you made place for your professional identity, yet?
If not, then Sign up with JobsForHer to give your career the place it rightfully deserves.
Tina Gidwani is a B.com graduate from the University of Mumbai. She has also done her PGDBA (Post Graduate Diploma in Business Administration) from the University of Leicester, UK through distance learning.She has GNIIT certifications from NIIT, Mumbai and has pursued IATA courses alongside.
Tina has two children, aged eight and a half and four and half years old.
Her hobbies include catching up on movies, reading fictional and non-fictional novels, sports activities like swimming, cycling, and badminton, socializing and sleeping whenever she can. A brown belt in Shito Ryu Karate, she hopes to pursue it some day.
About the Writer: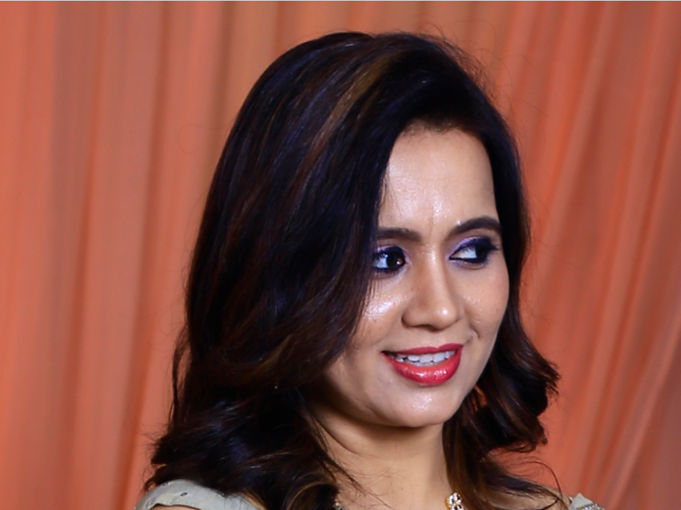 Kaajal Ahuja is a commerce graduate, who worked in the field of Customer Support first at HDFC Bank, and then at Dell International. During her 11-year career break, she spent four years volunteering as a Teacher at a government-run educational institution and also ran her own enterprise – 'Hey Gorgeous' – alongside, for 8 years. It was during her break that she discovered her love for writing, and is now back, working part-time as a Senior Content Writer at JobsForHer. She is married and is an upbeat mommy to a 13-year-old.