Chatting LIVE with Change Champion - Sanjukta Sarcar of Collins Aerospace
Kaajal A
in
Expert Advice, Events
|
26 Nov 2019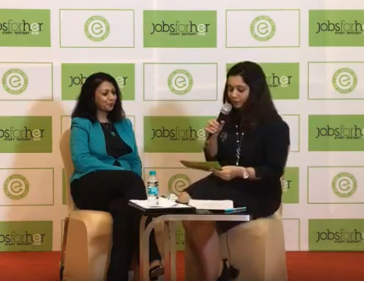 The day that we had so keenly prepared for, and looked forward to, had finally come.
The day when both sides of the spectrum - women professionals and the corporate world, would come together on one platform, to think, express and negotiate upon everything that was called for, for women to START.RESTART.RISE in their careers.

Among our noteworthy speakers was Sanjukta Sarkar, Senior Director and Head of HR, Collins Aerospace who posed as a Change Champion and brought to light through her years of work experience what was possible and more for women to achieve when they were determined to pursue their career aspirations, and when they had a company backing those dreams.

With 20 years of core HR experience including work around Diversity & Inclusion, Leadership Development, Talent Management, Organization Design, Union Management and Business Partnering, Sanjukta was also among the "100 Most Influential HR Professionals Globally" by CHRO Asia & Times Ascent Group in Feb, 2016.

A graduate of the "Executive Human Resources Development Program" as part of a global GE HR talent pool at GE Learning University, Crotonville, New York.
she is currently serving on the Diversity & Inclusion committee of NASSCOM, India. She is also, engaged with a non-profit organization - "Thrive with Mentoring", headquartered in Switzerland, to mentor women across industries.
One among our stalwart speakers during the conference, Sanjukta took time to sit down to this FB Live and reiterate, for our online audience, all that she embraces as a woman persistently climbing the corporate ladder. A few pointers being:
1. A career cannot be an OPTION. Because then it's just a job.
To go through a career consciously, you have to have a significant focus and drive.
2. We as women shortchange and undersell ourselves all the time.
So, BE CONFIDENT about your capabilities.
To know more about what YOU can do to get behind the career wheel,
WATCH and LISTEN to what else Sanjukta imparted...

Inspired to rise in your career?

Create your Profile+ and use it proudly to showcase you and your potential to prospective employers, colleagues, friends, and family, or any other connections!