Balancing Home and Work for a Working Mom (#BlogathonForMums)
Neha
in
Working Women
|
15 Dec 2015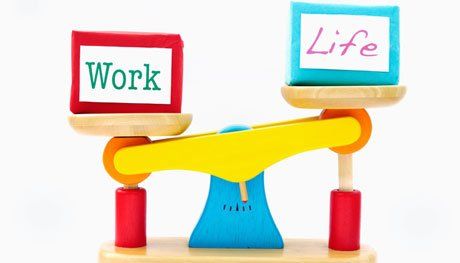 This entry is part of the Babyoye Blogathon for Mums.
Mothers have existed always! Only, it is now that we see a lot of hype about mothers and motherhood. I am a mother of two and I admit, that the whole motherhood experience is mighty special! But at the same time, I don't consider myself a martyr or someone who has sacrificed a great deal of herself for her children and husband. No, please don't already assume that I am one of those who has just got it all easy in life! Life, for me, has been anything but that! However, two most important things I have realised in my journey are: keep yourself busy and that should battle a lot of your emotional issues ( true what they say : an idle mind is a devil's workshop ) and the second is: the key to success in day to day life of a mom is nothing but time management. And that is applicable for all kind of mothers – mother with a 9-5 job, a busy corporate executive mother, a doctor mommy, a work at home mother or a home maker of a mother ( I deliberately chose not to use the term ' working' mother – which mother has ever escaped working?)
Tips for Moms with a Day Job:
Get Help:
There's no harm in getting a couple of household help, who would assist you with all your chores. From cooking to laundry to cleaning- in India it's not yet very difficult to get multiple maids. You might have to shell out quite some amount, but it's worth it. Don't get disappointed, if you have had one bad experience with one maid. Not all of them are the same. Treat them well and they will treat you good too! So, here the tip # 1: register with a maid agency at once and hire a couple of maids for different kinds of daily domestic chores.
Befriend your Hubby:
Tip # 2 is maintain harmonious relationship with your husband. This is important because only then will your husband see things from your perspective and will happily walk hand in hand with you, in this journey of parenthood.
If you have more than two kids, share the responsibility with your partner. If you are in charge of serving them food or feeding them and preparing their lunch boxes, your husband should help them in getting dressed for school.
Work Smart; Be Efficient: Take advantage of Technology
If you have to attend your child's sports day or annual day function, you still can be in touch with your team or clients with the help of your smart gadgets! You can send urgent emails, attend calls or even get on Skype conference, in case the situation calls for the same. Thus, tip # 3 is invest in a good smartphone, so that you don't have to rush, run or panic, in case of any kind of emergency at work. In fact, with proper gadgets handy like a good phone, laptop or tablet, you can even work from home, should your child falls sick and you need to be there by his or her side. No more guilty feeling for leaving your sick child at home and running to work!
Maintain a Calendar:
Mark all the important monthly events at school, birthdays or any other special occasion. This is to ensure that you not only miss any of these days but also, you can plan in advance and dedicate your time with your family. And that's your tip #4.
Make Weekends Work for You:
Do things together over weekends. If Saturdays are off for you, sleep in a little longer than usual. Spend some bed time with your kids. For example, engage in a pillow fight with your kids. They will simply love it. Cook together, how about baking a cake? You could also take them out for some park time or gaming, followed by dinner. So, Tip # 5 for you is allocate dedicated family time for weekends. Look forward to every weekend and make them special in your own way. It doesn't always have to be fancy but indulge in little joys like going for a picnic, or a swim or just laze in at home together. The focus should be at making memories. Try to keep away from phones and laptops as much as possible and be totally involved during family time.
Tips for Work –at- Home Moms (WAHM):
Along with all of the above tips that the WAHMs need to follow, there are a few additional tips for them.
Tip # 6: Make a to-do list: A Must
Make this a daily habit and tick off as you accomplish each of your goal and objective. However, be realistic in setting your everyday goals. Once you set reasonable targets, it will be a win-win situation for you as well as your clients, averting the scope for setting impractical expectations and disappointments.
Tip #7: Stick to your Routine: Don't deviate
Just because you are working from home, don't make yourself available to your friends and relatives during work hours. Remember, meeting deadlines is as important for you as it is for any woman who has a white collar job. So, set your work hours as per your convenience and maintain the same, throughout the week. True that, you are own boss but it's always better to allocate different time for different operations. For example, first half of the day, get done with checking emails, replying to them, touching base with clients and other forms of communication and may be the second half of the day, you can reserve for some creative work. Keep a separate time to schedule your Skype appointments, perhaps during your kids' nap times or when they are away at school.
Tip #8: Don't work round the clock:
This is very important. You must take mini-breaks in between- this will not only give you some exclusive time with your kids but will also help you in getting your creative juices flowing.
There you go! Following the tips given above, you should be able to better manage your time between work and home. In a nutshell, don't try prioritising one thing over the other, instead try bringing in some equilibrium in your professional life as well as domestic life. Get off that guilt ride and follow your instinct! There's no text book rule to parenting anyway.. Just Do It and Do it your way! Good Luck!
Aritra Raj - Work at Home Mom. Content strategist and analyst. Runs an online lifestyle store: www.quoche.co When she is not working, she loves spending quality time with her family.
If you're looking to start your career, or for new and exciting roles to showcase the skills you've gained along your professional and personal journey, you can find them at www.JobsForHer.com. Create your profile, upload your resume and start job-hunting today!