An Interesting Line up of Courses for Women Wanting to Build Skills in HR
Shruthi
in
Back to Work, Career Development, Working Women
|
14 Nov 2018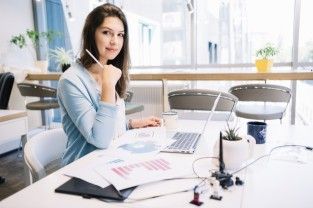 Restarting your career is like preparing for a journey; It's not one thing, but a theme of activities that will lead you to fruitful results. You will need to plan, assess, and prepare. Organize what you have, procure things that you will need and package them all together to carry on with you. Similarly writing your resume is only one step in the process. You need to take stock of how your industry and function have evolved during the time you have been away. Take steps to equip yourself with skills and knowledge that will make you stand out. Work on presenting yourself and package it all in a neat comprehensive manner. This article details this process very well
JobsForHer brings you an impressive line up of courses especially for HR professionals or women wanting to build skills in HR. They are offered by great institutions in India and around the globe. These are well curated and available just a click away from you. You have access to free and paid courses. So, let's get started...
Lumen Coaching's forte is transformational coaching. Lumen's focus is on building women representation at Senior leadership levels. Their programs are for Individuals and Corporates. Individuals looking at developing themselves or taking ownership of their career path to finding a partner who is completely committed to their goals.
The Rise and Shine program focus on:
Influencing skills

Developing your own personal brand

Learning to be assertive and visible

Get credit for your achievements

Leverage your relationships at the workplace

Accept being good enough. Get past the need to be perfect

Dealing with the guilt of pursuing a career and personal demands

Claiming your professional space versus trying to please others
Benefits:
Gain clarity on your career goal and know how to achieve it

Assert yourself as an able candidate for the job

Learn how to get your family to support your career goal

Be prepared to get back after a career break.

Become confident to claim credit for your achievements on your resume and at an interview

Get equipped to speak about your contributions and assert your readiness for the role
Importance of this course
Rise & Shine is a Group coaching, online program for young women, helping them thru a journey of self-discovery and growth. The program helps identify typical beliefs and biases holding women back and how to overcome them to speed up career growth. As a bonus, you will get a One on One session with a coach who has solid experience under her belt and is as committed to your goal.
Why are these skills important?
It will empower you to take control of your own growth. It is a great platform to instill and awaken faith and confidence in yourself, with the belief that you are worthy of a place back at work.
Diploma in Modern Human Resource Management by Alison
Alison is one of the world's largest free learning platforms. They believe in empowerment through education and skill training. Experts in online learning, they deliver high-quality learning experiences and material. They stand for innovation and inclusivity.
Course takeaways:
Know the Seven responsibilities of HR managers

Discuss the importance of diversity and multiculturalism to the success of an organization

Outline the recruitment and selection process

Types of interviews and interview questions

Types of tests available for the selection process

Goals of a Compensation plan

Steps involved in training an employee

Various types of training that can be offered in an organization

Uses and applications of a career development program

Types of communication and management styles in a workplace

Types of performance issues that may occur in the workplace

Various appraisal methods

Discuss considerations for initiating layoffs or downsizing

Explain employee rights

Explain OSHA laws

Explain health concerns that can affect employees at work
Benefits
A very comprehensive study of Human Resource practices, policies, and processes.
The course is free to study. You can choose to purchase an official Alison diploma or certificate, on successfully completing the course.
Importance
For an HR professional coming back to the workforce, this program is all-encompassing. It brings you up to speed with current HR practices in the areas of recruitment, selection, training, compensation and employee motivation, communication strategies and much more.
Open@Study brings you free high- quality online education, from institutions in Australia. You can now choose to learn something new, reskill as per your industry or satiate your need to learn. Open2Study is based on the principle that learning is lifelong and it should be accessible to all.
This course is for HR professionals, it covers:
The evolution of HR over the past century

Understand issues in HR

Recruitment in the Digital Age

Learning & Development

Performance management

Know the recruitment process.
Benefits
As you prepare to step back in the game this is quite a comprehensive course to bring you up to speed on the various facets of HR - People Management, Performance Management, Recruitment, and Learning & Development.
Importance
The HR field is dynamic as are people. This course will facilitate bridging the gap of how HR has evolved over the past years.
Fundamentals of HR for Absolute Beginners by WIISE
WIISE Learning Network is a community that enables you to learn anything. Bringing learner, pedagogy, and technology together.
This course is ideal for anyone opting to make a career in HR. The course prepares you with the fundamental. If you are an HR professional you will gain knowledge of how to be more impactful in your role.
Course Takeaways
Understand the Role for HR – administrative, compliance, strategy and business development
Introduction to HR and HR Audit
Learn how to recruit great talent by understanding how to analyze the job, prepare interview questions and job postings
Know the performance management process
Benefits for restarters
If you plan to start a career in HR this course will lay a foundation for you in learning the role and practices in Human Resources.
Or if you are restarting your career in HR it will make you more impactful as a HR professional.
Importance of reskilling
As this sector is very dynamic, this program will help you learn the fundamentals or refresh you and make you focused on your career.
Employee Engagement and its 7 Facets by WIISE
In this course, you will learn the 7 facets of the employee engagement process and ways to implement them for results.
Course Takeaways
Definition of Employee engagement

The role of building trust, providing challenging work, connecting work with the mission

Explore easy to implement actions to enhance Employee engagement
Benefits:
Get back in touch with the know – how to Employee Engagement
WIISE offers a monthly subscription, which enables you to do more than one course in a month
Importance
Result focused actions to building employee engagement. Employee engagement is a constant need. It is important to know how to address various engagement needs and be up to speed with the best options in the current work environment.
The courses are available for a limited time. Avail them now and get ready to Restart.
In the words of Lao Tzu - The journey of a thousand miles begins with one step.