Alleviate the Guilt: From One Career-Break Mom to Another
Neha
in
Working Women
|
10 Sep 2015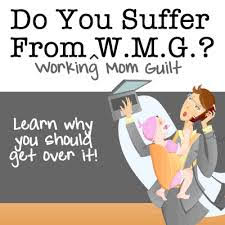 My child looks at me with accusing eyes. I feel my stomach turn; my demeanour feigns confidence in what I have just told him to do. But, I am racked with guilt, and chide myself for raising him without any prior training or a manual to guide me. And, guess what? I'm a hands-on stay-at-home mom who feels guilty for most... okay, ALL of my decisions these days! Doing it differently doesn't ease the pain either, because that brings stress.
It is all in the mind. Guilt is a wasted emotion. Empower yourself with the singular thought that every decision you make is the best one at that point of time.
So, here's what I'm going do - respect my decisions & alienate the emotions.
And of course embrace my "friends" - Plan, Organise, & Delegate!
If you think you are ready to start, restart or rise in your career, check out our new companies on board.
Here are a few news articles that I put together to inspire and motivate other career-break moms, just like me, for the week and weekend ahead:
Thoughts to Replace "Working Mom Guilt": huff.to/1Ljijos
A New Definition of Mother: huff.to/1XJzYip
Working Moms, Would Your Husband Stay at Home?: huff.to/1iw9fFR
If you're looking to start your career, or for new and exciting roles to showcase the skills you've gained along your professional and personal journey, you can find them at www.JobsForHer.com. Create your profile, upload your resume and start job-hunting today!
Shruti Shetty is a JobsForHer Ambassador. Curious mind. Dreamer. Committed hodophile. Light being. Sugar addict. Supercool companion. Awesome mum.