ADOBE Was Her First Choice for A Second Career in Technology
Kaajal A
in
Restarter Stories, Women-friendly Companies
|
03 Jan 2019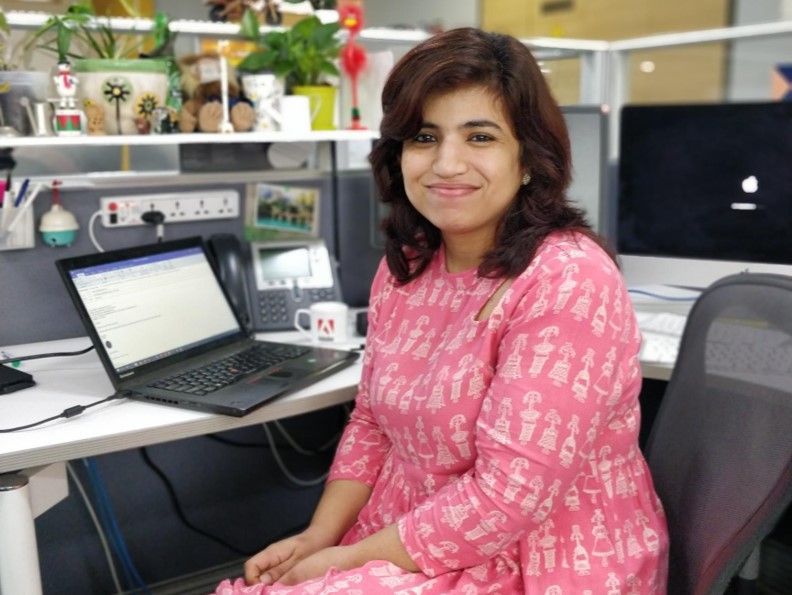 Adobe India is changing the world through digital experiences. Their creative, marketing and document solutions empower everyone – from emerging artists to global brands – to bring digital creations to life. It is the exemplar of a diverse organization that houses smart, passionate, and committed employees who are at the top of their game, and who take pride in a culture that promotes sustainability and giving back to the community.
And the fact that Senior Lead Software Engineer - Vibha Malhotra chose to return to Adobe after her 5-year break is a testimony to all that and more.
Known to be a detail-oriented person who takes extra measures to ensure perfect execution, Vibha has a great sense of discipline which shines through her work. An absolute team player, she takes pride in integrating the fun workplace that Adobe is, with her challenging role.
THIS is her restart story…
Hi Vibha, let's start with you. Tell us a bit about yourself & your career.
I have been dabbling in Technology and Language since I was in college. I did my graduation in English while simultaneously pursuing a Diploma in Software Engineering.
My career so far has followed a similar trajectory. My first proper job was that of a Software Tester at NIIT. From there I moved to Fidelity Investments when they had started setting up their testing team. I was the first Test Analyst to be hired by them back in 2002.
Two years later, even though I wasn't actively looking for a change, I applied at Adobe simply because it was Adobe. Even then, in 2004, Adobe was one of the most attractive technology companies for Engineers. Their building in Sector 25A in Noida was already a landmark, and the work culture and quality of work was the stuff of legends.
So, naturally, I was delighted when I got an offer. I worked with some of the best people in the industry during my 7 years at Adobe back then.
Always music to our ears! So, what attracts you towards Adobe? What do you like most about working here?
I like the overall maturity of the organization. It is an employee-friendly workplace that encourages dialogue. It actively promotes and rewards fair dealing and good work ethics. Adobe feels like home to me and I feel that a lot of this has to do with the kind of people Adobe chooses to hire.
I am proud to work for an organization where people support each other through thick and thin and believe in working together towards a common goal. I, for sure, have been fortunate enough to come across such people here at Adobe all the time!
What were your reasons for going on a break, and how long were you away?
Over the years, a desire to spend more time writing and studying Literature, two of my passions, grew stronger within me.
In 2010 I came up with a plan. I had saved some money, and the thought of spending a year pursuing a post-graduate degree in creative writing sounded rather charming. The plan after that was to teach creative writing or work in a publishing house for some time.
I am glad I ended up doing both. Once I completed my Master in Creative Writing, I started taking creative writing workshops, and in a few months, I also got an opportunity to work as an Editor at Dorling Kindersley (Penguin Random House). During these 5 years away, I spent a lot of time practicing the craft of writing and worked on some beautiful books, which I am truly proud of.
What made you want to return to work and what has restarting your career done for you?
After spending 5 amazing years of reading and writing, I decided that I had gained enough perspective and experience to continue pursuing my passion for Literature, along with a full-time role in technology.
So I applied at Adobe again, and after the standard rounds of tests and interviews, I was back with them!
What also helped was that I'd had a really good performance record throughout my previous stint at Adobe. And I had kept in touch with technology, which helped me clear the written technical tests with ease.
How has your career restart benefitted you and the people around you?
Well, I wouldn't call it a restart. It is rather a continuation. Taking off from where I left.
And I think it is the same case with everyone who decides to take a break. The key is to stay confident and not lose belief in your own abilities. If you have been able to stay in touch with your areas of expertise, it will require only a bit of effort to update yourself with the latest technology trends.
And even if you haven't been able to stay updated, you can give yourself 3-6 months to prepare for your return. This will require hard work, but it is certainly possible if you have the drive.
There are organizations like Adobe today, who are mature and evolved enough to absorb you into the workforce.
Do you credit anyone for support on your restart journey? If yes, then tell us about them.
Yes, of course, my family, who have always had faith in whatever I do, whichever step I take. They deserve a great deal of credit for helping me stay confident through the ups and downs.
My husband, Vijay, who always expects the best from me and pushes me whenever he feels that I am falling short in my efforts.
And of course, my manager at Adobe, Nandan Jha. He was my manager during my first stint at Adobe. During my second stint too, I have been fortunate enough to find a position in his team.
All my colleagues from my previous team, including Nandan, had created an environment that I looked forward to returning to. Adobe never stopped feeling like home to me, even while I was away for so many years, only because of the wonderful people I had the good fortune of working with here.
Inspired to explore opportunities with this family-friendly organization?