Aakriti the Creator - Rejuvenating Spaces & Her Second Career
Kaajal Ahuja
in
Restarter Stories
|
20 Apr 2017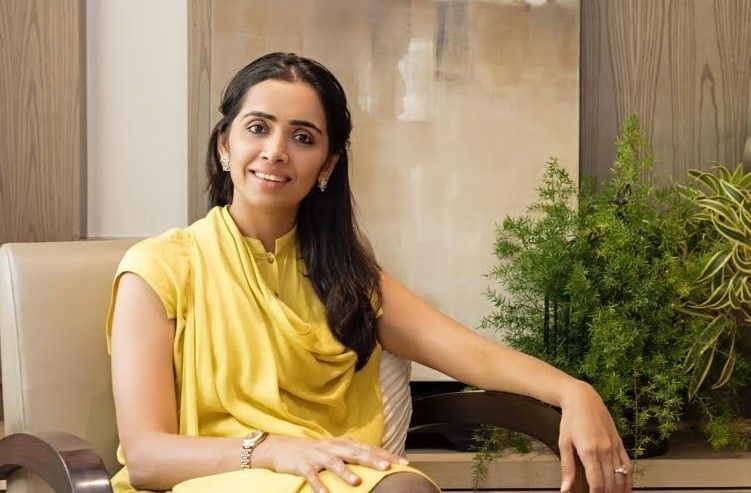 One glance at Aakriti Saraf's designs and you'll see that beauty lies, not just in the eyes of the beholder, but also in the craft of this gifted interior designer. With 'attention to detail' as

her motto, the spaces designed by her elevate you while tugging at your heartstrings, filling them gradually and incessantly with an elegance that's ethereal, yet warmly familiar. And effortlessly you're transported to another world.
So was it coincidence then that she was christened 'Aakriti'… which spells 'creation'...?
Having studied at the Rachna Sansad Institute of Design in Mumbai, from the moment she crossed paths with the profession, Aakriti knew that Interior Design was her calling.
Although she'd interned with Noser Wadia, went on to spearhead a design cell for Ajit Shilpi in Mumbai, and worked on other projects and assignments that garnered a great deal of appreciation alongside, her husband's relocation brought them to Bangalore; away from the comfort zones of friends, family, and everything familiar.
| Find Your Second Career Calling with JobsForHer by signing up HERE
Over the next two years, while adapting to a new neighborhood, Aakriti was fortuitous to find an opportunity with the architect Kabir Hira, whom she worked with for 2 years, before starting her own practice, in the city.
Amidst all the newness, she was glad to have an old friend, Jyoti Bansal, who shared similar interests. While the two decided to jointly model their homes, Aakriti also conceived her first child. To keep their flame burning, they co- founded LOVEPEACEART: an art expressions company, which creates mixed medium personalized wall panels, wallpapers, artworks, and furniture.
How blessed to be able to weave a passion and a friendship together!
LOVEPEACEART was a runaway success, and it encouraged the duo to keep the ball rolling. What started out as a "let's-do-this-to-keep-busy" affair, soon turned into a flourishing business. However, at the heart of it all, Aakriti always wanted to return to her roots in interiors.
In the months ahead, she gave birth to a beautiful baby girl.
And, we all know the feelings around our first born, don't we? Not only do they become the centers of our world and being, they somehow rewrite our identities. Everything else that was once important to us begins to fade away; so much so that it seems like this is where we as mothers want to and ought to be – beside our precious ones, for the rest of our lives.
| An article written by a mother: Finding The Real You
Aakriti, too, stepped away from it all, unsure of returning to that which defined and kept alive her creative side.
But history repeats itself, and so as our children advance into the world outside of our purview, we unravel the truths behind these changes… that someday soon they will have it all figured out, ON THEIR OWN.
For Aakriti, this revelation happened two years later, on her second time around as mommy. A blessing in disguise, she had her passion cum profession to fall back on! And the universe, as always, taking heed of all that one earnestly wishes for, gave form to that deep-seated desire within her.
When her son was all of 6 months old, Aakriti received a call from some folks who'd witnessed the quality of her work in the past, and specifically wanted for her to work on their project. Although skeptical about how she'd juggle it all, Aakriti took it up because of the flexibility she was offered, and the pace she could work at – all to be decided by her, as per her comfort levels.

And after 5 long years, Aakriti Saraf, touched base with her passion, once again.
WOMAN - give her the backing she needs and she will create new highs for herself to achieve.
For Aakriti, that kind of unwavering support came from three, close-to-the-heart people in her life – her husband Gaurav, who has been nothing but encouraging towards her initiative to get back to work; and her two friends, Neha Bagaria and Vidya Nataraj, who have played guide and confidante along every step of her second innings.
Today, as Aakriti is neck deep in her efforts to formally launch her brand 'Aakriti Saraf Design' across several media channels, she loves the heady mix of being both exhilarated and nervous in her endeavors to create a niche for herself.
| Read about Easing Back in a 30-Something Returnee
An active part of LOVEPEACEART even today, Aakriti owes a great deal to her friend/partner Jyoti, who encouraged her to fly (worry) free when launching her brand, while Jyoti holds the fort at their joint venture.
''A happy mom makes a huge difference to the family. And my work, my passion, is a hugely contributing factor to my personal well-being and happiness. I've seen the difference when as a mom, you're just hovering around your home and kids 24/7 when compared to those few hours you get at the end of your day, where the little things don't matter, and you only make space for the big ones! I've seen how my independence has added to my relationship with my husband, and how happy he is for me, being such an ambitious achiever himself. I am so geared up… I can't wait to take off.''
YOU are the creator of your second career. Come redesign it with JobsForHer by signing up HERE.
Aakriti Saraf studied Interior Design at Rachna Sansad Institute of Design in Mumbai. She then interned with Noser Wadia before heading a design cell for Ajit Shilpi in Mumbai. Marriage brought Aakriti to Bangalore and she worked with Kabir Hira as a Design Head before starting her own practice. Over the years, Aakriti has envisioned, designed and brought to life many homes and offices. She thrives on designing spaces that have a unique character and radiate the personality of the client. She aspires to combine sustainability with the functional aspects of a lifestyle and derives her inspiration from vintage trends reinterpreted in a fresh and contemporary way.
Aakriti is also the co-founder of LOVEPEACEART; an art expressions company, which creates mixed medium personalized wall panels, wallpapers, artworks, and furniture.She is married and a mother of two kids aged 4 years and 2 years.
About the Writer:

Kaajal Ahuja is a commerce graduate, who worked in the field of Customer Support first at HDFC Bank, and then at Dell International. During her 11-year career break, she spent four years volunteering as a Teacher at a government-run educational institution and also ran her own enterprise – 'Hey Gorgeous' – alongside, for 8 years. It was during her break that she discovered her love for writing, and is now back, working part-time as a Senior Content Writer at JobsForHer. She is married and is an upbeat mommy to a 13-year-old.