A Woman With A Will, Will Always Find A Way
Kaajal Ahuja
in
Restarter Stories
|
19 Oct 2017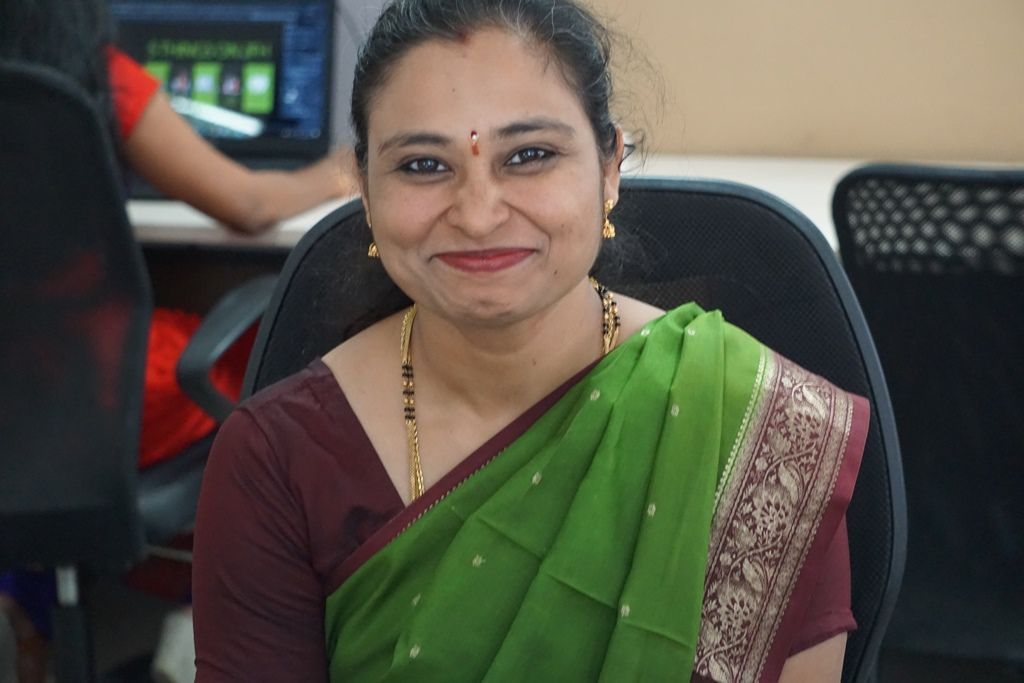 With each woman I meet through JobsForHer, in pursuit of covering their individual restart journeys, I am more than humbled by their quests.
One such journey is that of Harsha Bhandiwad. From the moment you meet her, you realize that Harsha is humility personified.
Today, Harsha is a Research Executive at JobsForHer.
If you've ever wished that a day had more than 24 hours, then a peek into Harsha's day may force you to rethink that.
| Do you wish to spend your day as productively as Harsha does? Then Come Back to Work! Here's How.
From Monday to Friday, Harsha is up and about at 3.30am. Up till about 8.30am, she cleans the entire house, steps out for a 30 minute walk, showers and sits for her daily prayers, drops her husband to his pick-up point, gets all the meals of the day in place, packs lunch for her kids and herself, and then heads to "work".
At the office, she is perpetually beaming from ear to ear and is always immaculately turned out in a starched, ironed, and perfectly matched salwar-kameez, not a hair out of place, and un-smudged kohl (a miracle!). Her energy is contagious, and everyone who passes by her during their work-day is infused with her sunny disposition.
Whilst most of us can trace our challenges back to our career breaks and our restart journeys, this woman's struggles date back to her graduation days. Whether it was the burden of repaying the loan her father took for her iGNIIT course, or the everyday juggle between the course and a job that demanded long hours, or (this one tops the list) being denied the salary she was promised for the first eight months of the year that she worked, at one of the most reputed companies in the world!
Harsha Bhandiwad has had it tough!
But, you know what they say, 'When the going gets tough, the tough get going'!
And that is what Harsha did… and still does!
When marriage came calling in 2004, Harsha was working at Thomson Financials as a Research Analyst. Even though she had worked hard to get to the position she had – with several rounds of interviews, arduous selection processes & rotational night shifts – she stepped down from it all to adhere to the norms of her new family & shoulder the responsibilities as the eldest daughter-in-law of the house.
| DIWALI SPECIAL: JobsForHer's Reskilling Courses Are On SALE!! Last Day to Buy: October 22nd, 2017!
A year went by, and with hope in her heart, Harsha looked towards a restart.
It took a while, but Harsha was fortunate to find the position of a Technical Writer with Think-Ahead Advisory. Although Harsha started out on a probationary basis, she was confirmed in no time owing to her credible performance. Not only was Harsha extremely satisfied to be part of such a firm, but was also well acknowledged by her Team Lead and teammates. Here, she was fortuitous enough to successfully complete her Professional Practice (PP) as well.
Soon, Harsha learned of her first pregnancy. Due to certain complications, the doctors suggested complete bedrest. Since 'work-from-home' was an option, Harsha grabbed the opportunity and continued until her son was about a year old. Even though she was eager to resume her role as a full-timer, Harsha chose to start working part-time, owing to her son's acute medical condition.
This she did for the next two years. And then came the news of her second pregnancy. This time around, Harsha stepped down to be able to nurture the needs of both her children.
Another year went by, and with undiminished aspiration, she braced herself to restart, yet again.
With a mother-in-law like hers, Harsha had no need to research childcare options. ''My mother-in-law is no less than a mother to me. She has watched and taken care of my children for all the hours I was away,'' she shares.
And by this, she meant 11 am to 6 pm, every alternate day of the week when she was out interviewing at different companies, across the city! As a result of her gap, she was turned down at every single one of them.
This cycle of events continued for the next SIX YEARS. And, in spite of being shattered from within, Harsha did not back down!
Fortune favors the brave, and it was long overdue with this gallant soul. One of Harsha's comrades told her of JobsForHer, and true to form, she applied on the website immediately.
And before she knew it, she was on the job!
| Here's What Happened When Second Career Women Met the JobsForHer Team at RestartHer
''It was like the celebrations of a festival for me! Landing a job finally after six long years! After joining the company, meeting with Neha, and working in an environment as congenial as this, my confidence levels are soaring! I am elated to be part of JobsForHer!
"To be able to have a family at home and one at work, every day, brings me so much joy. I want to be as active as I am now, for my entire life."
When she heads back home at the end of each work-day, Harsha picks up the relay baton right where she left it – folding the laundry, putting it away, cooking dinner, listening to her family's stories of the day, grocery shopping with her mother-in-law, temple visits, and general housework, before she rests her eyes for a few hours until the next break of dawn…
If Harsha's steadfastness has you raring to go, then log onto the JobsForHer website TODAY, create a profile with your resume, select the roles that suit your comeback the most, and apply away!!
To get regular updates on all the buzz at JobsForHer, follow us on