A Family-Friendly Company that Cares About the Missing Women from the Workplace
Kaajal A
in
Restarter Stories, Women-friendly Companies
|
12 Apr 2018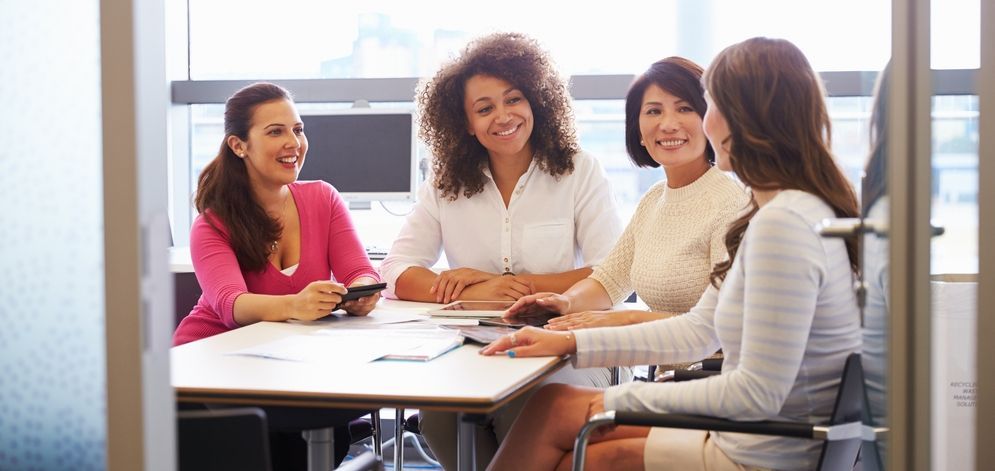 A $43 billion dollar company, in the league of the Fortune 500, with a strength of 120,000 employees across 40 countries.
The Aditya Birla Group (ABG) is a force to reckon with.
Not just in the way they define success and scale it, but also in the way they champion women's participation in the workplace. A belief system that is inherent to their work culture. A work culture that stands on 4 solid pillars of employee satisfaction:
Enhancing Careers
Learning & Development
Rewards & Recognition
Enriching Life
The Aditya Birla Group values happy employees. And they know that can happen when they have happy families. And happy families are the ones that strike a work-life balance, making space for all that contributes towards well-rounded individuals.

Which is why they resonate with JobsForHer's cause and have been in partnership with us for a very long time.
And through the stories of the women we're about to tell you, you'll see just how.
In the year 2017, the Aditya Birla Group ran a campaign across India called 'Dual Careers' - a program that was thoughtfully designed to cater to the professional growth of trailing spouses of ABG employees who relocated to remote areas. For these spouses, they were offering through JobsForHer:
Work-From-Home Opportunities
Come-Back Enablers
Restarting Infrastructure, and
Inspirational Information
This campaign carried the potential to bring radical changes both in the lives of numerous women and in the mindsets of the corporate world.
When the drive reached Renukoot (a city in Sonbhadra district in Uttar Pradesh), a young, zealous mother by the name of Shilpi Shah was amidst the women present. And THIS is what the event did for her:
''Hindalco Industries of Aditya Birla Group had organized a workshop titled "AWOO Pilot Project" for the wives of their employees, to explore an array of work-from-home opportunities online. The workshop was designed to provide suggestions and guidance from career experts.
As luck would have it, among the Mentors present was Neha Bagaria – Founder of JobsForHer, and I was floored by her persona. She threw light on the cause and the purpose of JobsForHer. It was an amazingly interactive and informative session.
When she pointed out that: "Even if you have been a stay-at-home mum, you've got to be proud of the unique set of skills you've developed - from time-management to negotiation skills, to perseverance," it all made so much sense.
I knew in that instance, that I had finally come across a revolutionary moment to kick start my second career.
Within the next couple of weeks, I became part of the JobsForHer Ambassador Tribe.
Updating my status from 'Homemaker' to a 'JFH Ambassador' was such a confidence booster!
Coming back to work after a break is never easy and jobs are certainly not door-delivered. A career break usually attracts negativity, uncertainty, and sometimes, disrespect.
But you have to get your head around these matters and focus on your self- confidence, work-life balance and more. When I decided to go back to work, I was seeking a switch in my career because I realized that I don't fit in a Geologist's skin anymore!
Through the assistance of webinars by JobsForHer, I began looking at my second career through a brand-new perspective and learning all that I needed to, to restart. With the help of relevant links and information shared on the group, I got my very first written assignment as a freelancer recently!
Although I have started small, I'm happy to acknowledge and prophesize that work-from-home IS possible; even for a non-technical person like me. In time, I want to upskill and get certified too, but, one step at a time. For now, I just want to enjoy the present.''
And besides Shilpi's testimonial, we were ecstatic to have found this… The WOMEN at ABG and what they have to share:
Know someone who took a break from their careers to tend to a family? Are they ready to return to work but don't know how?
Take a look at these job openings with ABG in multiple locations, and share them with them right away!
And if YOU are a woman on a break, then return to work with this family-friendly giant whose values are and always have been in the right place, as a company!
Circle Relationship Head – Mumbai
Circle Relationship Head – Bangalore
Circle Relationship Head – Delhi
Deputy Manager – Spinning – Bharuch
You can also find other such Blogs, Reskilling Opportunities, Jobs AND Mentor Guidance on the JobsForHer portal.