5 Best Work-From-Home Jobs That Don't Need Investment
Martina
in
Back to Work, Career Development
|
05 Jul 2019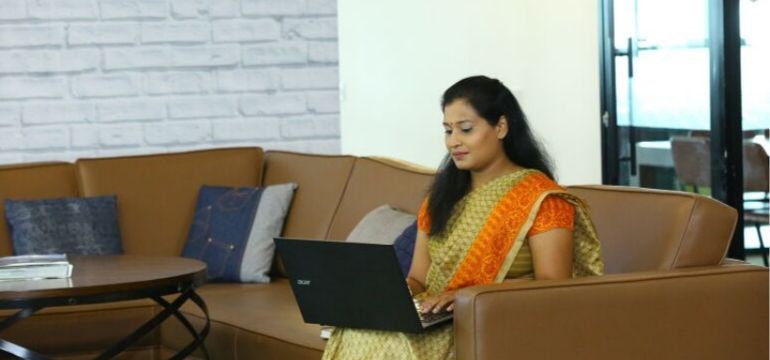 Gone are the days when work-from-home was a privilege reserved only to a few.
Times have changed and so have working preferences. Now, work-from-home jobs are preferred by many people, especially women.
Yes, women prefer work-from-home jobs, and why wouldn't they?
You get to work without having to hustle between office and home, and you get paid well.
Whether you are looking to start or restart your career, work-from-home is a great option.
But there's something that is keeping women from pushing on with their job search. And that is the idea that work-from-home jobs require you to make an investment.
This is a myth.
Sign up to JobsForHer to apply to the many available work-from-home jobs. And rest assured, you don't have to spend a rupee for them.
Once you sign up, go ahead and refer your girlfriends.
Refer as many as you can, because you stand a chance to win a one-on-one mentorship session with Neha Bagaria, Founder & CEO of JobsForHer.
Below are 5 best work-from-home jobs that you can do, sans any investment:
1. Data Entry Jobs
Is typing speed, accuracy and attention to detail your forte? Then data entry jobs are for you.
But make sure you have a great internet connection.
This job profile doesn't require you to be on your system 24x7, and you can actually work whenever you are free.
All this without investing a rupee!
2.Blogging Jobs
If you have a flair for writing, then blogging could just be your thing.
Wondering what to blog about?
Well, the topics are endless.
You could blog about your day-to-day life to start with. This could inspire other women, which might help them in their lives.
Or, you could blog about your trips around the world, fashion, tips and tricks, and the likes.
You could blog about anything you are passionate about.
Just look around, there is content everywhere!
3. Telemarketing Jobs
Looking for something that doesn't take up much time?
Have you heard of telemarketing?
Telemarketing is a direct marketing job.
Telemarketers are expected to sell a company's product or services to existing or future clients.
In order to become a telemarketer, you should have good problem-solving and listening skills, and you should be a people person.
In addition to this, you are required to have basic computer knowledge.
4. Social Media Marketing Jobs
Every company has their presence on all social media platforms.
Hence, hiring an expert in the field is high on the priority list for all companies. This the reason Social Media Marketing jobs are high in demand.
Every company wants to be on top of the social media game.
Do you know the tricks to get more followers, likes and shares? Because, only an expert can tell this.
If you are a pro at understanding what works best on social media, and if you have strategies in mind and are waiting to implement them, then you should consider working as a Social Media Marketer.
5.Graphic Designer Jobs
Would you buy anything that you don't find good enough? No, right?
Likewise, if your website isn't presentable or doesn't appeal to your target audience, they are not going to stick around.
This is where a Graphic Designer becomes necessary.
The role of a Graphic Designer is not restricted to the website, but for everything that goes out on social media or any other in-house requirements.
These are the 5 best work-from-home jobs for which you don't need to spend any money.
Now, go ahead and apply to these and many other work-from-home jobs on JobsForHer.
Spread the word around. Sign up with JobsForHer and refer your girlfriends NOW!