20 Questions with Genpact's Head of Leadership Hiring!
Schonali
in
Expert Advice, Women-friendly Companies, Events
|
30 Aug 2016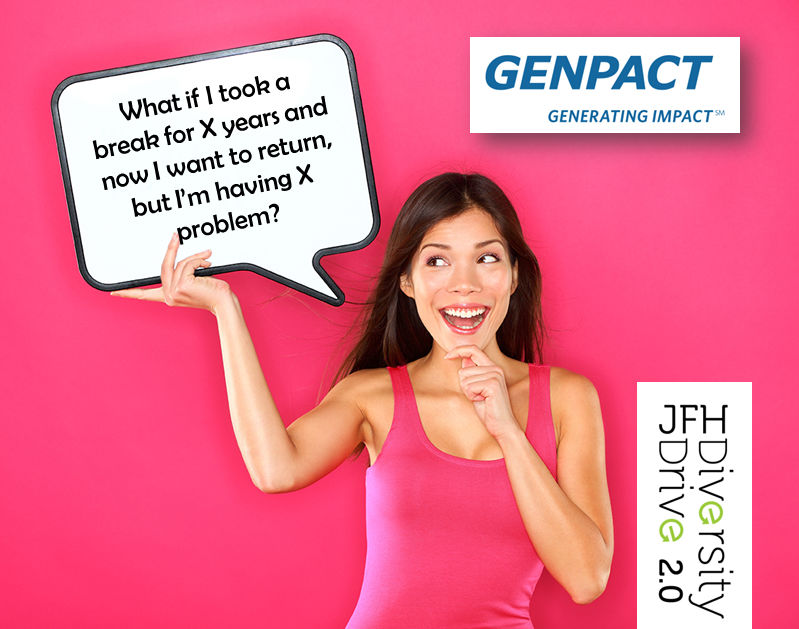 You know that when the Head of Leadership Hiring at one of the "Top 25 Best Companies to Work For" in India sits down to have a Facebook chat with a group of mums in a metropolis, that that company cares about their female workforce more than most.
JobsForHer was delighted to host this Facebook chat with Ritu Bhatia of Genpact, and Gurgaon Moms, and we selected the top 20 questions that came hurtling at her all hour long, for all our women candidates to glean useful information and insights, while you navigate your individual restart journeys!
Have a gander and take some notes!
1) Neela Kaushik: Dear Ritu, Thanks for taking the time to do this! How do we prepare our families for the transition? I think that is of great importance for me to successfully return to my career.
Ritu Bhatia (RB): Hi Neela, I love your question. It is so important to have a support system. I, for one, need the support and encouragement of my near and dear ones to do well at work, so it's critical that they are aligned and comfortable with your decision to restart and support every day.
2) Sucheta Dhere: I haven't had a break in my career; can I still apply?
RB: You can still apply.
3) Yesha Rawat: Hi Ritu, firstly thanks for this wonderful and thoughtful session. I have over 13 years of Marketing and Advertising experience and have been on a sabbatical for 3 yrs. What programs/areas would you suggest to upgrade myself while I look at re-entering the job market? Also, if I were to apply to Genpact, what are the kind of roles/opportunities that I can expect with your organisation?
RB: HI Ayesha, Digital Marketing is the buzz word and you'd enjoy the learning process. You'll do fine. As far as job opportunities at Genpact go, please send us your resume at careers.genpact@genpact.com and we will assess it. Wish you the very best!
4) Anshu Bhatia: Hi Ritu, I'm on the job hunt again, after a sabbatical of almost 5 years. I would prefer a part-time option as I feel it would help my child and me transition better. Are MNCs open to part-time options or do they only offer full-time roles?
RB: Hi Anshu, part time options are available in several organizations.
5) Nehaa Singh Kamboj: Good Morning. How open are organizations to hiring women after a really long break, say 10 years? How are they treated once they get back?
RB: Hi Neha, thats what Genpact's Career 2.0 is all about! When we did the research we realized that there aren't many organizations currently that encourage women who are on sabbatical to return to a full time job. So, we are proud of our program that truly creates differentiation. As far as being "treated" you should expect to be treated like any other employee.
6) Vidya Raja: What are you looking for from us when you hire women who have taken a break?
RB: Firstly, like any other executive, we are looking for passion, drive and a hunger to succeed. Equally important is cultural fit, and then comes the experience you carry. Today, organizations I believe are looking for candidates who are sincere, think out of the box and take risks, people who are driven and independent.
7) Subhashini Ramasubramanian: Ritu, if we have entrepreneurship experience, will that be considered?
RB: Yes absolutely, Subhashini.
8) Vidya Raja: Would you consider previous work experience when you hire or is it looked upon as a fresh hire given the break?
RB: Absolutely Vidya! We consider it.
9) Panchami Nikam Bhardwaj: Hi Ritu, can one specifically put in the C.V. the gap in years stating taking care of children as was the case?
RB: Hi Panchami, yes it's important to clearly highlight the breaks in your resume. You can share the reason during your interview.
10) Subhashini Ramasubramanian: Are the benefits for women rehired after a career break on par with other employees in the same grade?
RB: Absolutely, Subashini.
Namrata Bhargava: Hello Ritu, I restarted my career after a break but am yet to find an empathetic work-culture for mothers, especially those from nuclear families. Is Genpact looking empathetic for us in those terms?
RB: Hi Namrata, I've been here for 17 years, and that's the reason J Genpact provides a very robust support and understands the needs of women (and for that matter, men, too) therefore we have a day-care system, flexi-work hours, work-from-home wherever possible.
Bableen Gambhir: After a career break (due to childbirth etc), on rejoining one falls down the corporate ladder in terms of position and remuneration. Is this the expected norm? Not to get remunerated at par, and sometimes lower than younger colleagues?
RB: Hi Bableen, this is such a critical question. So I took a 1.5-year sabbatical myself and I had no debate in my mind that when I returned, I would start where I left off and that was only fair to me and to all my colleagues.
Anjana Anand: Hi Ritu! Much appreciate your talking to us women here on this very pertinent matter – much needed! I am a CSR and social development professional and have taken breaks to adjust with family moves. I have managed to remain engaged and gainfully employed at every location. Coming back to India after eight years, I am struggling with getting back to a full time career primarily with this challenge: How do I assess the remuneration that I should demand? The offers vary on a wide range of figures.
RB: Hi Anjana, each organization will have its own compensation philosophy. You need to set your priorities and decide which organization/brand makes sense along with the remuneration offered.
Donna Abraham Tijo: Some of my juniors have now reached my level in the hierarchy. I don't plan to join back full-time for another maybe 2 years. By then they will definitely progress. Considering I have been freelance (albeit at a junior level), how should I handle the progress in career terms later when I join back?
RB: Donna, don't worry about levels, bands. These are nomenclatures. I have been there. You will break even with your hard work.
Shweta Rai: Good Morning! Since we've been away from the job scene, what's the best way to re-connect with people from other companies? LinkedIn is one way, any others?
RB: there are so many forums that keep happening which gives one ample opportunity to network and connect with likeminded professionals. LinkedIn is one great virtual setup. I go to SHRM, People Matters etc. And it's a great change from daily routine :)
Kamalini Nats: I'm a French teacher but have been thinking about getting into HR in a company that needs someone who speaks French and also German. What's the way forward for someone like me in my 50's? I love people and have a feeling that I'd do well in HR, especially marketing.
RB: Hi Kamalini, I would advise you to definitely do some HR certification courses before you apply for an HR position. That will help you to align to your area of interest better.
Vidya Deshpande: How do deal with the situation where you might be working with a relatively junior team (in terms of age)? How do you communicate with them, as they are younger and may be less formal etc.?
RB: Vidya, for me it's very simple. I have a very young team. I'm friendly yet firm and mean business. Transparency works across all levels.
Sapna Bakshi: Hello Ma'am. Thanks for your valuable time here with us and sharing your experience. I wanted to know: is it possible for a marketing person (10 years experience in events & advertising) to get into HR in Employee Engagement or as an HR Business Partner? Do good communication and interpersonal skills come as an added advantage?
RB: Hi Sapna, good communication and interpersonal skills are needed for any role. If you want to build your career in HR do kindly ensure that you have additional certifications in HR if you want to apply to a new organization.
Swati Madkatte: How will I regain my confidence, smartness, and get active after a career gap?
RB: Hi Swati, it's a daily effort. I juggle between housework, my kid, and my career every day. I ensure that I start my day fresh by doing some form of exercise, which keeps me active through the day. As far as confidence is concerned, it's about telling yourself that you HAVE what it takes to succeed and enjoying new experiences!
Anupama Jain: Even on break what essential skills should we always follow?
RB: Hi Anupama, you should keep yourself engaged and active by doing courses that are of interest to you, and activities that you enjoy. Or, work to gain different experience in any field. I did HR certification from SHRM when I was on sabbatical.
Testimonials
Bableen Gambhir Thank you Ritu Bhatia! The direct conversation was really great. Thanks for organising Neela Kaushik, Upasana Mahtani Luthra, and team!
Shweta Rai Definitely a great discussion and most of us had somewhat similar questions. It was great to read all the comments and insights. Thank you, Ritu, for this discussion and taking the time out for us. Much Appreciated. Great initiative JobsForHer, Neela, and Upasana!
There is 1 DAY LEFT to apply for Genpact's exciting job-openings for women on a career break!
[These roles are in BANGALORE | HYDERABAD | GURGAON]
SR. MANAGER & ASSOC. DIRECTOR - FINANCIAL CONSULTANCY ENGINEERS
ASSOC. DIRECTOR - ERP CONTROLLERSHIP ENGINEERS
AVP - HUMAN RESOURCES (HYDERABAD)
AVP - HUMAN RESOURCES (GURGAON)
AVP - SOURCING OPERATIONS ENGINEERS
AVP - DIGITAL TRANSITION ENGINEERS
SR. MANAGER ASSOC. DIRECTOR FINANCIAL CONSULTANTS
VP - DIGITAL TRANSITION ENGINEERS
Didn't find a job role that suits you? Don't worry, FOLLOW GENPACT to receive first-hand alerts on all their new jobs being posted and learn about how women-friendly they are HERE
LAST DATE TO APPLY TO ROLES AT GENPACT IN THE JFH DIVERSITY DRIVE 2.0 IS SEPTEMBER 1ST!!!
FOLLOW GENPACT , APPLY to their job-roles, and UPLOAD your RESUME today to get in on the action of this All-India Diversity Drive with JobsForHer!