Where Resilience Was Her Key to A Comeback
Kaajal Ahuja
in
Restarter Stories
|
02 Sep 2016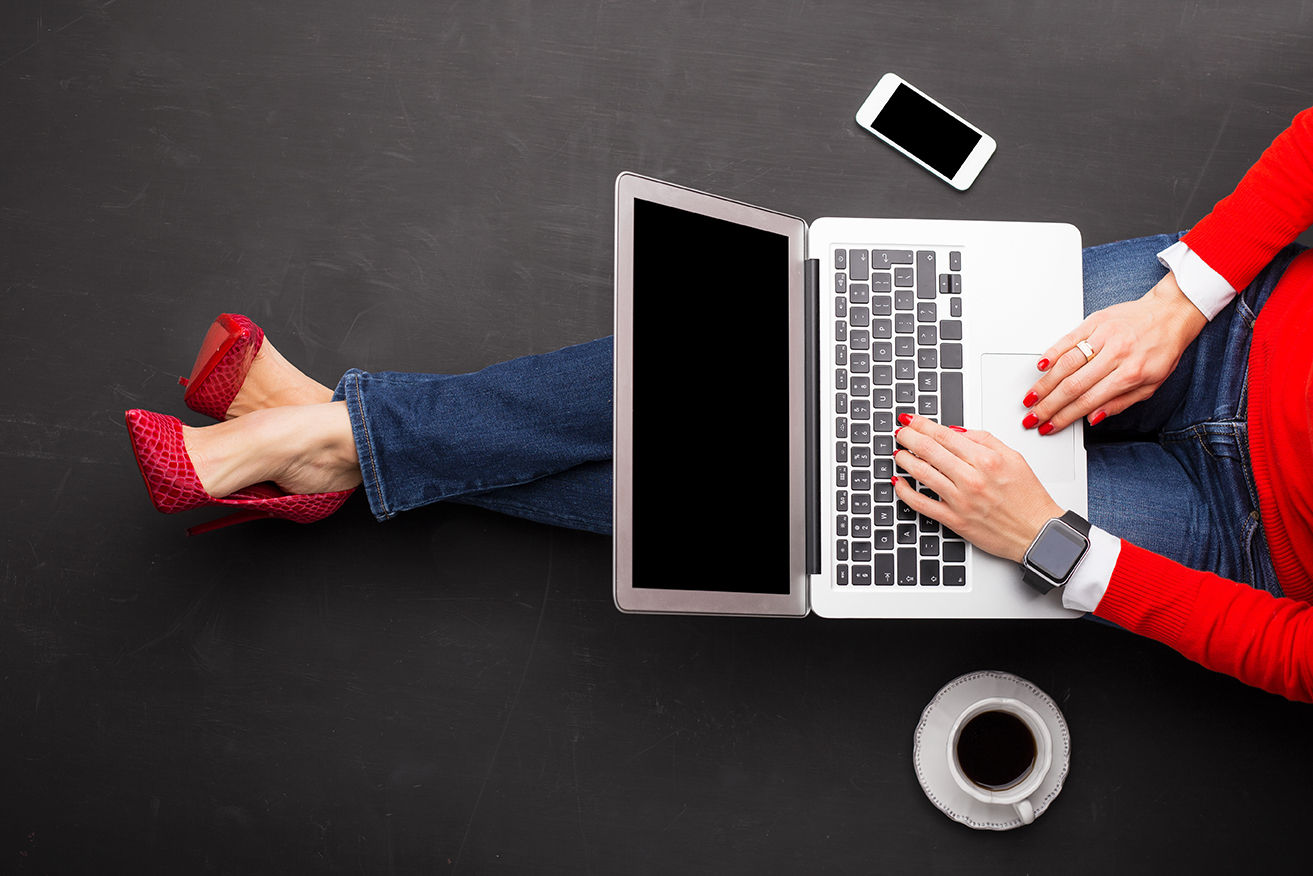 Leo Tolstoy once said, ''Upbringing is Everything.''
Sheetal Hariharan, a work-from-home coordinator at Seba Designs today, couldn't agree more.
THIS is her Restart Story…
''My childhood was my most cherished phase… I can still remember the days when my mother gave up her bank job to be able to be there for my brother and me. My father ran his own business and was away for most part of the day. And back then, there was no concept of nannies and maids!
I've always felt that my mum did something truly special for us by sacrificing her career because she had always been a career-oriented woman! She would often tell us of her dilemma of having to choose between a job and her kids. In fact, the reason I was born after 4 long years of their marriage, is because she was keen on pursuing a career! Today, when I stand in her shoes, I have a newfound respect for her.
As kids, we were brought up with immense love…
I still recall my father returning home well after 10 pm, and still making time to first simply play with us, before doing anything else! I was the apple of my father's eye! Although my mum would lay restrictions on me, my father gave me complete freedom and exposure.
He always spoke of how difficult it is to establish oneself in a career. But he was certain that he wanted us to earn that only on the basis of merit! These were the exemplary rules we were brought up with… and I'm so proud and glad about it!
It is the love I received from my parents that flows through my relationships with my husband and daughter today…
I've always steered towards the world of Media…
Soon after my graduation in 2003, I appeared for an interview at Info Media India, one of the largest print media firms, and was appointed as an Operations Executive, shortly after. I was part of the backend support team for their Publication & Subscription division. During my time there, I participated in many expos and events and gained phenomenal experience in client-vendor co-ordination.
In December 2005, I moved to Prolific Consultants as a Senior Consultant, handling their Operations & Business Development. The experience gave me significant exposure to client interactions. But since the line of work here was so different from my field of interest, it ceased to challenge me and I decided to move to greener pastures.
At the time, one of the largest 3D animation production houses of the country was looking for a Centre Head for their Corporate Office. The Centre was in fact on the verge of closing down on account of mismanagement and lack of business revenues.
I accepted the challenge and readily took up the job.
Ten months down the line, this very centre became a TOPPER amongst all others!
I brought all the knowledge and expertise under my belt into play here. Almost every other Centre Manager had counsellors under them, but not me. So, I took upon myself the entire responsibility of counselling, business development, marketing, and operations!
I would conduct workshops and seminars in colleges, plan and execute marketing & advertising activities, where we would tie-up with production houses for placements and arrange the facilities for the same. My work also required me to travel to other cities in order to deliver training to new centres.
The senior management was extremely happy with my performance, and I on the other hand had access to profound learning with all the hats that I donned at this place!
I worked until the day my daughter was born…
I crossed paths with my husband, my companion, during my time at Info Media; but we tied the knot only in the year 2006. I conceived in 2007 but continued to work all through my pregnancy. In fact, in my 9th month, I interviewed with the DD Chandana Channel on how the animation industry was booming at the time, which was aired on TV shortly after.
Due to negligence on the doctor's part, I developed several complications post-delivery. My sutures opened up not once but twice, and I was exposed to multiple infections! Even though I had help from my mother-in-law who came down especially to look after the baby, I was depressed and spiritless. My husband was at the peak of his career and I couldn't expect any more of his time or attention. It had been two and a half months already and yet I was in a predicament of whether I should extend my leave or return to work.
And the feeling of returning instilled in me a degree of mental & physical wellness.
Unfortunately, this was also the time around which I lost my father to an acute illness. It was undoubtedly the most trying period of my life… Losing the man I'd idolized above any other… Forever!
My daughter lived with my in-laws until she was about 9 months old, after which we tried a hand at hiring nannies and full-time maids. But after a while, since I wasn't too happy with the outcomes, I decided to step down from my career and raise my daughter the way I knew it was done.
It was then 2009. I did not regret or mull over my choice, because it was for the sake of my precious one and also because I was playing a voluntary but substantial role, as the Secretary of the Y's Men International Club. Y's Men was founded to support the YMCA Club worldwide and is now the largest non-governmental youth organization rendering social work for society as a whole.
During my 7 year career break, I raised a beautiful, independent, young girl. I gave her a strong foundation and instilled in her a sense of responsibility towards family, academics, and society. Today, she's an all-rounder! A topper in her school, state topper in abacus, rank holder in national and international exams, a badminton player, singer … What more I could do?
In between all this time, I also learnt the art of jewelry making. I'd make all sorts of accessories in precious and semi-precious stones. I took this up not just as a hobby, but also as a small-scale business catering to orders from friends & family. Gradually, the volumes of the orders were sky-rocketing!
Although I was enjoying myself thoroughly, the tedious processes of this art began affecting my health and I developed a chronic case of vertigo. So, I slashed down my orders and took to it only as a once-in-while hobby.
My daughter had grown, and the ambitious part of me beckoned again.
A good friend then told me of JobsForHer. I immediately listed myself on the website, and I received 3 calls in a matter of 10 days! Even though these were full-time roles with good pay scales, I was keen on a more flexible option such as a part-time or work-from-home job, as I still wanted to be around for my girl and family.
I was fortunate then to have been called by Seba Designs, my present employer.
When I first met my present boss, I was bowled over by the flexibility of the job she offered me in terms of no fixed working hours or days of coming into office. She said she wanted an all-rounder like me to run her projects PAN India, from wherever I am! What more did I need???
Without a second thought, I accepted the offer and started work the next day. Now, I go to the office once in 15 days or as required, and as most of my work happens over the phone, I'm able to work out of any place and anytime. My boss meets me for all discussions and updates when she's in town, many a time at a Starbucks! Additionally, I have immense support from my husband and in-laws, both.
I would like to tell all the women who are on a break, or in a dilemma about whether or not to restart their careers, to make up their minds, come out of their shell and give it a try!
JobsForHer is here especially for showcasing career-break women, which is an added advantage for re-starters because there is such tough competition. We should be happy that there are such portals to help us get back on our feet.
As you can see, my mantra has always been, ''never give up''!!
Sheetal Hariharan is a BCOM graduate, who also has a diploma in software engineering from NIIT. She has previously worked with Info Media India, Prolific Consultants and Maya Academy of Advanced Cinematics respectively. She is married and a mother to a 9-year-old daughter.
About the Writer:
Kaajal Ahuja is a commerce graduate, who worked in the field of Customer Support first at HDFC Bank, and then at Dell International. During her 11-year career break, she spent four years volunteering as a Teacher at a government-run educational institution and also ran her own enterprise – 'Hey Gorgeous' – alongside, for 8 years. It was during her break that she discovered her love for writing, and is now back, working part-time as a Senior Content Writer at JobsForHer. She is married and is an upbeat mommy to a 13-year-old.